BAMMA is proud to announce that Georgia Graham is the new official backstage reporter for all BAMMA events. Starting with BAMMA 16, she will be picking up the microphone and getting all the news, views and gossip backstage. Since BAMMA 6, Georgia has been a staple part of the company and after 4 years has made the decision to jump into the backstage interviewer's role. We caught up with Georgia to find out about how the great news came about and reminisce about her time as a BAMMA Belle.
So, pretty big news you're advancing to backstage Presenter! Was it a hard decision?
Yes and yes! I love being in the cage strutting about and smiling to the crowd so I feel quite sad that I'm finally hanging up my outfit after 4 long years! I have over the past year or so been approached by other
companies to ring girl for them and leave BAMMA; but loyalty is a big thing to me and BAMMA have been my extended family now since I was a little clueless 21 year old. I'm excited to now take the microphone and bring all the backstage action and gossip, hopefully one day work my way up to work alongside Frank and OJ in the cage!

What are your favourite memories of being a BAMMA Belle?
The walkouts for sure! Tom Kong Watson causing me to stand and laugh hysterically on live television is one moment I will never ever forget! I've met so many amazing people, fighters, fans and the famous faces we get coming and cheering on cageside. One of my favourites in particular is Noel Clarke who always comes with a huge group of friends. I just love the whole job entirely, even when I've been beyond stressed and ready to go in the cage and hurt someone myself. I've loved literally every single minute.

What's the best thing about BAMMA?
That's got to be the amazing bunch of people I work with. I am the luckiest person to have such an awesome group of people around me. We aren't just colleagues, we're like one big family and I love that. I don't just phone up to talk about work; I've seen me phone about break ups, man problems, general issues in my crazy life and someone has always been there for me! Of course I can't miss out the amazing talent that I get to work with. We have seen some of the best and most lovely fighters ever putting on the biggest and best shows. There is no word to describe the fantastic atmosphere on fight night!

Can you explain what "The Streak" was about?
I know and research my stuff ;) The Streak was due to the fact that a large percentage of the fighters who I walked out tended to win their fights. It's sometimes just my gut instinct on the night though, some fighters have called me their lucky charm and asked me again to walk out with them, some I just know and am a huge fan of, so I choose to walk out with them.

Did you have a favourite fighter to walk out?
Colin 'Freakshow' Fletcher is always entertaining, Semtex gets the crowd going crazy and Tom 'Kong' Watson was the same - the crowd would always be going totally wild!! I remember my last walk out with Ryan Scope being entertaining in that his pants were possibly shorter and tighter than mine....and bright pink!

Will fans still be able to see you ringside at events?
Of course! I'll still be ringside and darting about as always.

What is the strangest thing you've had to do while being a BAMMA Belle?
Definitely is just being a part of Colin 'Freakshow' Fletcher's walkouts.There are simply no words for them. He's the most entertaining fighter aside from being extremely talented. I never thought I'd see the day I nearly got whipped by a kinky bondage style man with a large whip, while a midget performed with two men having sparks come out their mouths... Literally no words.

You've worked with a fair few BAMMA Belles. Are you still in touch with them all?
Yes, I still keep in touch with most of them. I don't see them as often as I'd like but I still work with Sara now and then, and have bumped into Hayley and Stacey on the odd occasion!

Is there anything you will miss about being a BAMMA Belle?
Doing my little strut in the cage and flashing my Cheshire Cat smile at the crowds! Also the walkouts...I absolutely loved doing those.

Where else can fans see you outside of a BAMMA arena?
Usually I can be found bopping around Newcastle most weekends. It's rare that I'm not out or adventuring around the Metro Centre. My other job is working on a farming estate so no one will see me there. I do still go back to do motorsports now and then, but I've mostly branched into TV and music video extra work: I'm in Cheryl Cole's recent music video. Also look out for me making little appearances on MTV and Channel 4 in the near future.

You're very active on social media as well. Where can all your fans find you?
I'm always tweeting and can be found under @LittleGeorgieG on Twitter and Instagram. I'm also on Facebook under Georgia G.

Finally, as always, thank you to my family (Mam and BAMMA) for the continued support and help, to the fans of BAMMA for the same, always supporting and always keeping us going! It is always hugely appreciated!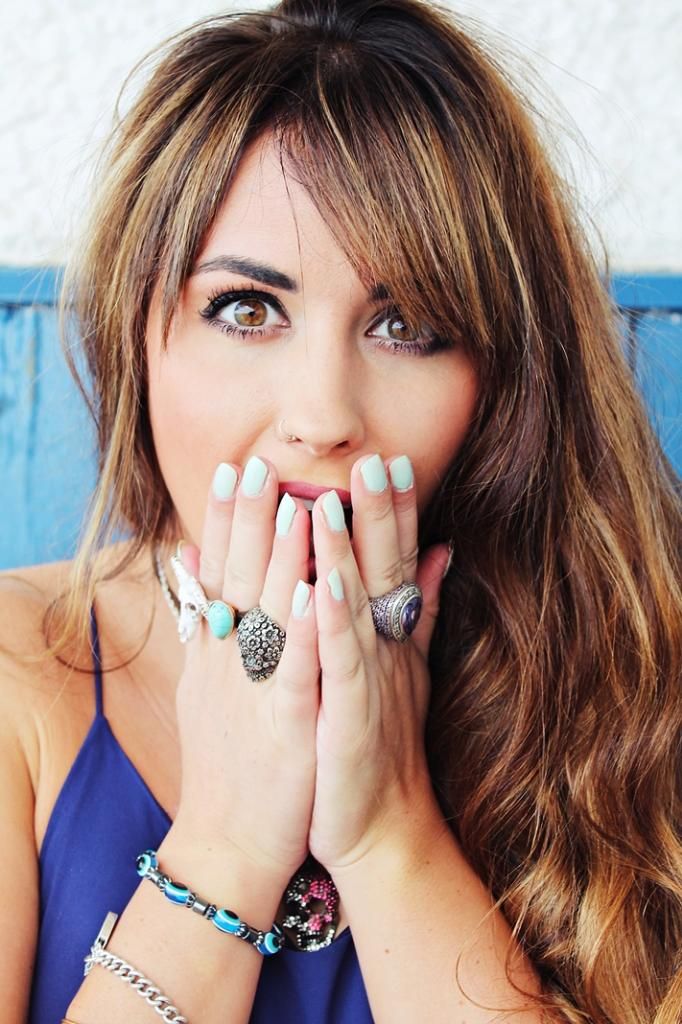 Images by Charlotte Summers.